The 3 Sisters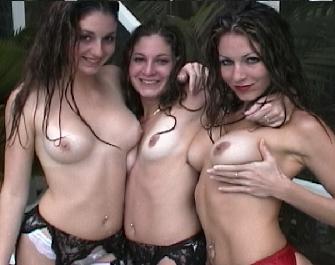 Meet Taylor (aged 23), her sister Jade (21) and their youngest sister
Skye (18) -- 3 sexy sisters from Miami, Florida. These girls just love
to have fun, so we invited them along to our modeling school at
BTZ Productions, to audition for one of our wetlook and underwater
projects. Boy -- these girls were great to work with. They really know
how to have fun in the water (especially with each other)
Taylor & Jade have appeared on Howard Stern's tv show and were
such a big hit on his show last year, that he devoted 2 entire shows
to interviewing Taylor & Jade as "the lesbian sisters".

Now that their youngest sister Skye has turned 18, she has now
joined in on the fun too, so this video marks Skye's first appearance
before a camera, and with aquatic modelling..
See for yourselves. Here is a video trailer and some pics from:

3 SISTERS
"a day in the life of"
... the aquatic adventures of Taylor, Jade and Skye
355kbps, requires a highspeed broadband connection and Windows Media Player used with Internet Explorer
Dial Up users can right click and save to disk and play offline. Netscape is not recommended., use IE.

This video is 1hr 55 mins of wet & underwater entertainment.
Shot entirely on digital video and 3ccd cameras for the highest
picture quality, and mastered using Pinnacle editing systems.
Available on VHS for $50 or DVD for $55.

Here are a few pics for you.